Good evening Drunk Mad Libbers! Allow us to introduce ourselves. We are Demanda and Jaymes visiting from Borderline Phenomenal and are muy excited to be hosting this evening. So get your drinks ready (execpt for you Myaftercar, you just drink juice or something) and put your dirty thinking caps on because "IT'S TIME!"
As most of you are sick of hearing know, we took a little trip a few weeks ago to

L.A.

to see/meet 100 Monkeys. This trip was amazaballs. Not only did we get to see a freaking awesome band and some hot pieces of arse...
Borderline Phenomenal and 100 Monkeys unite!
but we also got to hang out with our lovely twi-besties.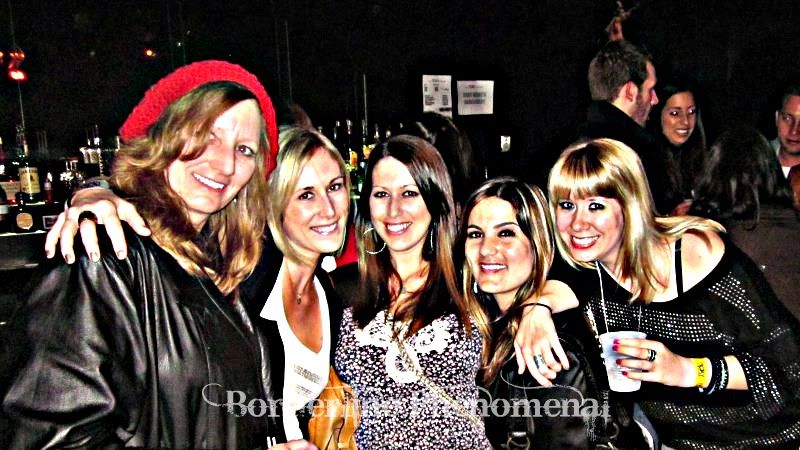 LuvsMeSumEdward wasn't there yet but she was in spririt.
One thing that would have made this experience even more awesome was if all of you were able to come along with us. So we figured, why not rewrite history and include all of you in the fun. So without further ado, we present to you:
A Borderline Phenomenal DML Trip!
39. Emotion/feeling
42. Verb ending in ing
Last weekend, the

bulging

Jaymes and Demanda took a trip to L.A. to see 100 Monkeys. They got up at the

meat wallet

of dawn to drive three hours to Los Angeles. On the way down there, Demanda and Jaymes decided to rock out to some Bieber. Most

monkeys

think Bieber is a

T

wiMom

but they love to rock out with their

foreskins

out to his music.
"I just need somebody to

PORK

!!!! ", Demanda sang out at the top of her lungs. All of the sudden she stopped and said "I have to go to the bathroom so

clammy

. Let's stop somewhere." They finally found a CVS,

bedazzled

out of the car and

boinked

into the store
. As soon as they got near the bathroom, they realized this place was a

sticky chode

. "This place smells like

Amanda's crotch

!!" Demanda screamed out loud and Jaymes gave her a flaming

hot look. They

cried

and

licked

at the sight and smells of this place. It was like someone took all of the

sticky moose knuckles

in the

The Roxy

and combined them into this one room to use as a torture chamber. Someone had also

pooped

on the toilet paper roll which made the situation even more

sparkly

.
The girls got out of that place as fast as a

cum dumpster

and continued on their journey. They finally arrived in the

squeaky

land of Beverly Hills. Demanda had an appointment to get her

clit

waxed and Jaymes waited

vigorously

while scanning the area for famous people. She really was hoping to see

Jackson Rathbone

but sadly, that didn't happen. She still had just as much fun watching

bloated

people.
Soon enough, it was night time and the girls were heading to The Roxy to meet the

pulsating

100 Monkeys. After a long drive down Sunset Blvd., they finally arrived at The Roxy and met some

cum guzzling son of a bitch

fans. Jaymes was nervously shaking in her

ripped panties

but played it cool as a

cucumber

when she met the band. Jackson was looking as handsome as a

robot timberwolf

in his

salty

pants, with his

fishy

crooked smile. Demanda wanted to yell "Jaaaaaaasper" really

tight

at the top of her

ass cheek

s

but decided against it. Although they do love him in Twilight, it was nice to see him without that

elongated

wig and

freeway

look on his face. When he put his hand on Jaymes' lower back, she got flushed and immediately wanted to shat.
After meeting the band, getting autographs and taking pictures, the girls went next door to get some

catfish

. They finished and were feeling very

fucked

so they went back to The Roxy to meet up with all of their DML friends for the show. All of the h00rs had an amazing time,

groping alligators

and fucking

leg hitches. The bands were all

explosive

and 100 Monkeys were even more

cranky

live. All in all everything about the weekend made the girls

giddy

and they can't wait to do it again someday soon.
PS- The next day, there was a rumor going around that Rob and Kristen were

porntastically

at a grocery store in Sherman Oaks. Most likely they were

buying blood pumping muscles

to go

fisting

for their naughty role playing game as

Edward (Fifty)

and

Jasper

.